Create a new source of revenue with a RUF biomass briquetting machine.
TURN wood byproducts INTO HIGH QUALITY BRIQUETTES THAT CAN BE RE-USED OR RESOLD.
As a wood manufacturer, you have a unique opportunity to create an economical, environmentally friendly fuel source out of the free wood dust, shavings, or chips of your operations.
Create a carbon neutral energy source
Hydraulic briquetting means no artificial binders are used so briquettes remain natural products
Eliminate the need for storage and disposal fees
Keep labor costs to a minimum
A RUF Wood Briquetting press pays for itself in less than 18 months
RUF BRIQUETTING Machines WORK WITH A VARIETY OF OTHER WOOD AND BIOMASS BYPRODUCTS
Wood and biomass briquettes
MDF
Chipboard panel residues
Agricultural substances
Paper and textile dust
Straw
Sugarcane bagasse
Wood chip
Wood dust
A RUF biomass briquetting Press starts generating value on day one
Pay for themselves in less than 18 months
Are engineered for automatic, 24-hour operation with low horsepower
Are compact and integrate easily into existing systems
Can be installed and running at your facility the same day
Briquetting Experts
The whole world of briquetting, under one RUF.
CF Nielsen is the leading manufacturer of mechanical briquetting presses. Together, we supply briquetting solutions all over North America.
Low maintenance costs
High efficiency motors
Die system with exchangeable wear parts
Die system can be adapted to customers' raw material and density requirement
Double infeed system on large machines for higher capacity and uniform density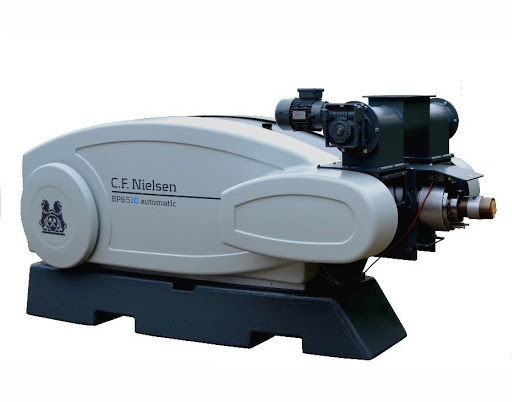 See what our customers have to say about their experience with RUF Briquetting Systems
Cabinotch found a way to remain environmentally responsible and reduce shipping costs while simplifying a complicated process.
How are biomass briquettes made?
Biomass briquettes are made of two things: biomass material and pressure. That's it. There are no chemicals or additives, making them a natural product.
Step 1
Biomass materials are moved to a pre-charging chamber by a screw conveyor.
Step 2
A pre-charger presses the material into the main pressing chamber.
Step 3
The main pressing ram compresses the material into the mold and forms the briquette into its final shape and density.
Step 4
Briquettes are pushed out of the machine one at a time.
Isn't it time to stop leaving money on the floor?
Talk with a biomass briquetting expert about how you can add revenue to your business.