Create new revenue streams with RUF straw briquetting machines
RUF offers wood waste solutions for manufacturers across the United States
Dealing with straw waste is a costly hassle. Do you have a strategy for removing it that's adding to your bottom line?
Whether the straw waste is from hay, corn, wheat or other agricultural crops, it must be stored in bins and facilities to ensure that it stays out of the rain, taking up space and forcing you to manage it. But a better option exists.
The benefits of straw briquettes
Straw waste is a valuable biomass material that can be used by power and heating plants as industrial bio-fuel. While straw waste can be used in a variety of ways, including animal bedding and incineration, straw briquetting offers farmers and organizations a new revenue stream from their waste product.
Eliminate the need for storage, disposal, and landfill fees
Generate a new revenue stream from briquette sales
Create a natural product that can be used by cement plants, in boiler fuel and outdoor burners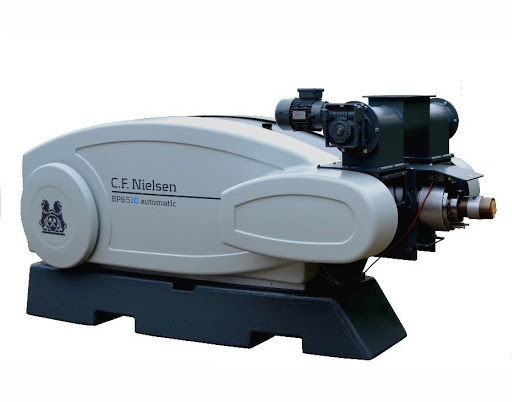 As a leading straw briquetting machine manufacturer, we can help you add briquetting to your operations.
Our goal is to help you become more profitable and efficient.
Excellent ROI: RUF briquetters often pay for themselves within 18 months
We offer a free briquette test of your material to prove out a solution and demonstrate ROI up front
Over 5,500 briquetters in operation globally
RUF briquetting machines are compact and integrate easily into existing production lines
Our briquetters require little to no supervision and can run 24/7, keeping labor costs low
RUF briquetting systems work with a variety of other wood and biomass byproducts
Sawdust and Wood Dust
Sugarcane Bagasse
Wood Chip
How are straw briquettes made?
Straw briquettes are made of two things: straw and pressure. That's it. There are no chemicals or additives, making them a natural product.
Step 1
Straw is moved to a pre-charging chamber by a screw conveyor.
Step 2
A pre-charger presses the material into the main pressing chamber.
Step 3
The main pressing ram compresses the material into the mold and forms the briquette into its final shape and density.
Step 4
Straw briquettes are pushed out of the machine one at a time.
Considering how to add revenue to your operations?
Our briquetting experts can explain how straw briquetting, and our machines, can fit into your business.